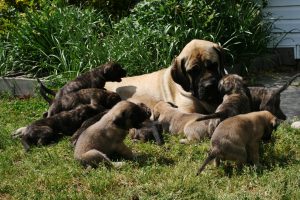 Our 2019 English Mastiff litter has arrived!  …and they are gorgeous!  Blessed to say,  we will have 7 available to new folks!    Please inquire ASAP if interested, as pups will be reserved only with a received $200 deposit.  Both male and female, brindle and fawns available! Should be ready for new homes around Labor Day!   You are welcome to come meet both Fiona and McGregor and the whole family, and choose your pup in person if you wish…or we will be happy to assist you by sending photos by email if that is more convenient!  We have been responsibly breeding English Mastiffs for 18 years and are very proud of our puppies. We have made many happy families over the years and will be happy to provide you with those references if you require, and expect you to provide the same when we inquire…
Congratulations to some of our new puppy parents of 2018!
---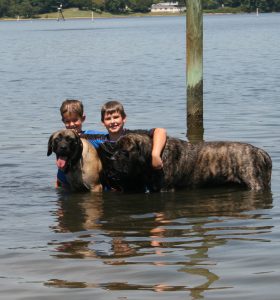 We are pleased to announce a wonderful, new litter of English Mastiff puppies born November 28th, 2016!  We have fawns and outstanding brindle coats on both male and females that will be available in mid January 2017.   Full AKC registration papers.  Parents are our personal friends and guardians of our children and livestock.  Come meet the "family"!  More pictures coming as pups continue to develop- scroll down to see puppy pictures!!!!
---
---
January 14th, 2017 – all Pups  have found their new homes!!!
---
---
---
---
Fiona and McGregor puppies-February 2016
5 Week Old Individual Pictures!  Vet check went great!  Healthy, wealthy, and wise! and ready for pickup now!  
Thank you to all of our wonderful new families!  We look forward to your pictures and updates on their development!  Please stay in touch!
---