We usually have a few superb youngsters available.  Below, you will find the list of performance prospects from Edenhof's  program, and maybe even your dream partner!   Please, feel free to inquire by calling (804) 580-6319 for a conversation about your particular interest and we will be glad to assist you!    We appreciate your visit to Edenhof, and wish you all the best in your endeavors … as our dreams are intertwined with yours!
Available!
Edenhofs Splendid:  2020 Bay colt (Sir Heinrich x Rubignon) This stunning, young prospect wholly reflects his World Class top performance pedigree.  FEI and stallion prospect! Expected to finish 16h.         

---

 

Edenhofs Drak Noir:  2020 black colt (Dressage Royal x VPrSt Benetar/Black Tie) Absolutely super fancy movement and the best of character.  Outstanding stallion prospect with super solid, proven FEI performance pedigree! Expected to finish 17h.

---
---
---
ALREADY FOUND THEIR PARTNERS!
Edenhofs Phrophecy-Premium 2019 GRP out of VPrSt Feriada/Feriado. Reserve Champion Westfalen GRP 2019


Edenhofs Prophecy:  2019 Reserve Champion Westfalen GRP colt and Premium and Site Champion 2019 Deutsches Reitpony– chestnut gelding with exceptional chrome will get you noticed in any company AND his whole is as amazing as his flash!  He has it all…gaits, conformation, lovely thoughtful temperament etc… we just don't know what more one could want.  First foal from Premium dam, Feriada, who is sired by the up and coming dressage star,  Feriado (Fabregas), successfully competing and winning Small Tour in Germany under Dorothee Schneider.   Grand damsire is none other than Jongers Weyden( yes, the Olympic dressage star under Sven Rothenberger!)  Look closely if you are a serious dressage rider wanting a mount with no limits!  (Evans Providence of the Night/Feriado/Weyden) Expected to finish 15h.      Westfalen Premium foal and Keurig Site Champion!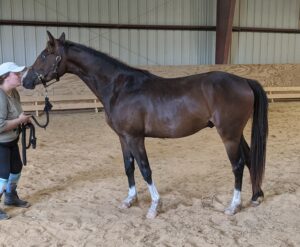 Patronus:  2017  German Riding Pony gelding by the superstar of versatility, Evans Providence of the Night.  Patronus was purposely bred to produce an all around sport pony to showcase Providence's superb versatility as a sire.  He has a lovely rhythmic trot and canter with smooth changes  that should be so easy to ride.  Measuring 14.1h at 4 years old , he should finish a nice large pony size.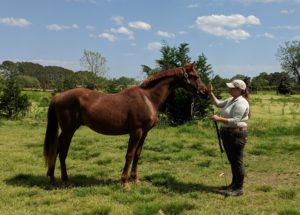 Prince Rohan:  (Evans Providence of the Night x Replikah HF/Regulus) 2017 -15h Westfalen Deutsches Reitpony gelding who found his partner in Dawn Monroe of Montana.  Enjoying every adventure under saddle and maintains his unbeatable  happy outlook on life!
Edenhofs Prime Time:  (EvansProvidence of the Night x VPrSt Golden Charme/Cocktailzauber) 2020 GRP colt and FEI prospect. Happily growing up with Robin Brown of North Carolina!    Edenhofs Prime Time
Druscilla  (Dream Along x VPrSt Benetar/Black Tie) 2015 mare who has produced her first Premium foal in 2019!  16.2h, big boned, delightful gaits with suspension and  fluid movement.  We are so excited to follow her progress with Jill Kitchens -Palenzuela of Georgia!
Edenhofs Wenceslas:   2019 Premium Westfalen bay gelding  by FEI stallion,Werbellin, out of the super mover, Westfalen mare, Druscilla by Dream Along!  Huge colt that represents some of the best in long term Hanoverian and Oldenburg breeding.  Werbellin provides superb bone, power, and conformation, whilst damsire Dream Along and grand damsire, Elite Hanoverian, Black Tie, provides the superb suspension that makes this big boy appear so light on his feet!  We will be looking for him in Colorado soon with Barbara Sarook.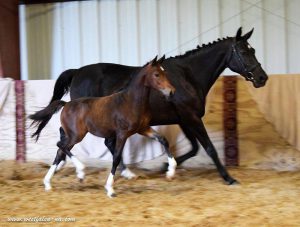 Edenhofs Premiere:  2017 Premium German Riding Pony filly by Evans Providence of the Night out of Verb. Pr. St. Benetar .  Site Champion of the Westfalen Inspection and Premium foal, she wowwed them by scoring an amazing  8.8 for her gaits!  Scored the #1 top spot of all GRP fillies for Westfalen NA in 2017!!!  This girl can compete with the best modern full size warmbloods of our time!   Will finish about 15h.      Westfalen Inspection video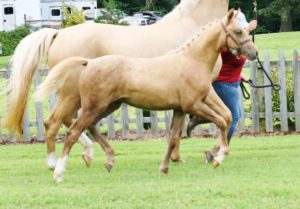 Edenhofs Pina Colada:  2019 Westfalen Deutsches Reitpony/ super friendly palomino filly with chrome boasting a superb combination of performance genes for both jumping and dressage!  Extremely successful first foal of Premium mare, Golden Charm, who is notably sired by Cocktailzauber, the 2013 Hanoverian pony champion that caused so much excitement in Germany. Grand damsire is the famous Makuba!  Congratualations to Lauren Bartram of California!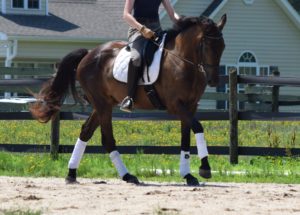 BRAVO!   2016 Gold Premium Edenhof colt out of  Replikah  Grand Prix dressage stallion, Boleem, is now ridden and owned by Colleen Reid of Colleen Reid Dressage in California.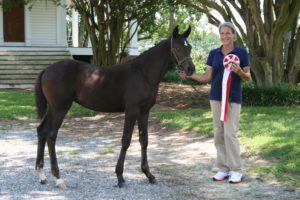 Edenhofs Diva Royale:  2018 Premium filly (Dressage Royale x VPrSt Benetar/Black Tie)   Westfalen Site Keurig Champion.  USDF DSHB 2018 Filly Champion and 2018 Foal Championship at VA Summer Dressage, HITS, Commonwealth Park.  With scores over 80% she easily qualified for finals at Devon!  Now owned by Mrs. Lesha Williams she is destined for an FEI dressage career!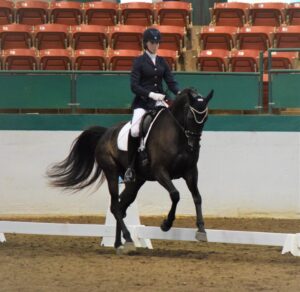 ---
---
VPrSt Edenhofs Dekadence
2011 RPSI Premium mare (Dream Along x Replikah HF/Regulus).  Dam of Premium foals, Phineas and Brocade, she is now enjoying a very successful journey up the levels with trainer, Veronica Walsh of Raleigh.  She is owned by Mrs. Lesha Williams of Virginia.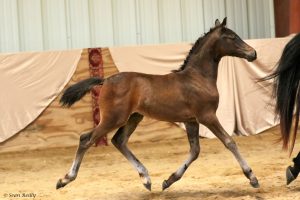 Phineas Bunce:  2017 Premium German Riding Pony colt by Evans Providence of the Night out of Verb.Pr.St. Dekadence. Owned by Kristina Brown of Virginia.
---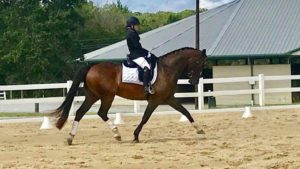 Deutschmark:  2011 Bay Edenhof gelding (Dream Along/ Goldstrum /American History xx) 16.2 h,  Hann/Old with full RPSI  passport.  Now at North Atlanta Equestrian Center in GA with his owner/trainer Jemma Gray!  
---
---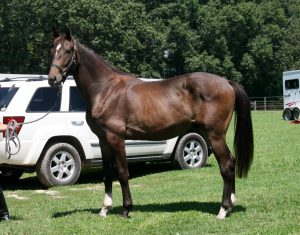 Danke Schoen: 2013 Edenhof gelding by Dream Along out of Hanoverian mare Godiva by Goldstrum.
---
---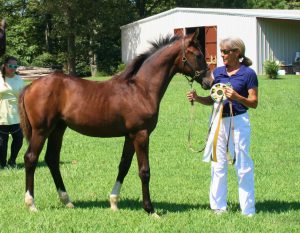 Fashionne:  2016 bay Edenhof filly out of Verb. Pr. St. Benetar by Furst Fohlenhof (Fidertanz v Mephistopheles).  Gold Premium and Site Champion at her Keurig with an incredible score of 9 for movement!  RPSI SSA Futurity Winner 2016, and Reserve Champion filly 2016 Overall!  This gal is big, sensible, and a WOW mover with an incredible dressage career in front of her!  World class prospect. Video→https://www.youtube.com/watch?v=2QoR7T7JvK8  Developing nicely in New York with Valerie Martin.  Congratulations on winning NEDA's Rivendell Dressage June 25,26th MARE CHAMPIONSHIP with 80+%!!! as a yearling!
---
---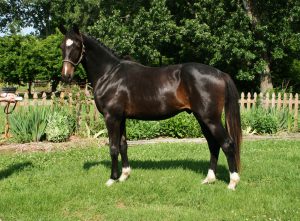 DaVinci:  2013 black bay Edenhof gelding by Dream Along out of Verb. Pr. St. Benetar (Black Tie x Davignon).  Phenomenal gaits and elasticity, scoring an 8.6 for movement at his keurig, earning Gold Premium, and tying for 5th overall for colts of 2013! First foal of Verb. Pr. St. Benetar sports the pedigree loaded with FEI dressage stars on both sides that produced his conformation and movement.  Born to be a world class competitor!  Video→https://www.youtube.com/watch?v=C9dRte07hfw
  Currently is successfully competing at 4th Level in Canada!
---
---
---
---
Deacon's Quarter:  2011 Edenhof gelding, 15.3h., Dream Along/Boleem/Grandos.  FEI quality, charisma, and talent, in an appropriately sized package!This guy shows both a superb and unique pedigree, textbook conformation, excellent movement, and has a super work ethic!  Fun and enthusiastic outlook on everything.  Video→ https://www.youtube.com/watch?v=EvH6P5wIlhc
  Owned by Susan Ashbrook of California, and  in training with FEI  trainer and "S" judge, Sandi Chohany! 
2017 update:  Congratulations on High Point and scores from 72-77% at his first show in Chicago!…and ranking 11th for HOY Awards at Training Level with only 2 shows!  No#1 Training Level horse of Illinois 2017 as well!
---
---
Blues Man:  2009 GOV Gold Premium gelding, 16.1h, sired by Black Tie (Hanoverian carrying the Bolero lines) out of the fully approved GOV Thoroughbred mare, Imperial Hope. Good movement and conformation making him suitable for both the dressage or jumping disciplines. An extremely level headed athlete with a fun personality!
---
---
El Capitan: 2008, 17.1 h black/brown Hanoverian gelding by Espino/Escudo I out of Glamour/Gaylord.  His good looks and athleticism also got him featured in the August 2015 edition of the Equine Journal as a model for an article about working caveletti with Ingrid Klimke.
---
---