We usually have a few superb youngsters available.  Below, you will find the list of performance prospects from Edenhof's  program, and maybe even your dream partner!   Please, feel free to inquire by calling (804) 580-6319 for a conversation about your particular interest and we will be glad to assist you!    We appreciate your visit to Edenhof, and wish you all the best in your endeavors … as our dreams are intertwined with yours!
---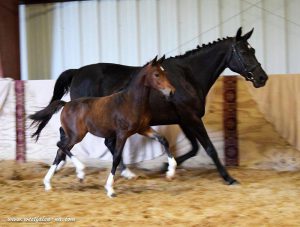 Premiere:  2017 German Riding Pony filly by Evans Providence of the Night out of Verb. Pr. St. Benetar (who also produced 2016 Reserve-Champion RPSI foal & SSA Futurity Winner, Fashionne!)  Site Champion of the Westfalen Inspection and Premium foal, she wowwed them by scoring an amazing  8.8 for her gaits!  Scored the #1 top spot of all GRP fillies for Westfalen NA in 2017!!!  This girl can compete with the best modern full size warmbloods of our time!  Super smart quick-learner,   she is correct, confident and a respectful joy to work with each day.  Serious FEI dressage prospect.      Westfalen Inspection video
---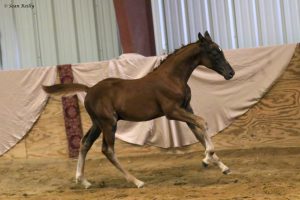 Prince Rohan:  2017 German Riding Pony colt by Evans Providence of the Night out of Replikah HF, (who  also produced the #1 RPSI Foal &GRP foal of 2015 and 2015 SSA Futurity Winner, and the #1 RPSI Mare of 2016, Verb.Pr. St Sophia Loren, as well as V.Pr. St. Dekadence for a total of 7 Gold Premium foals with RPSI).  Rohan is like his sire in type receiving an 8.5 score on conformation  at his Westfalen inspection!  Unlimited potential for either a dressage or jumping career- and will definitely win on the line! He also possesses that in your pocket,people loving, highly affectionate personality.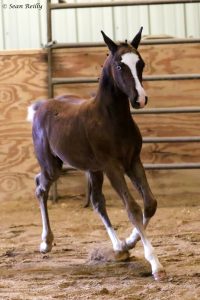 Patronus:  2017  German Riding Pony colt by the superstar of versatility, Evans Providence of the Night.  Patronus was purposely bred to produce a smaller (estimate about 13.2h when done) top hunter or dressage pony to showcase Providence's superb versatility as a sire.  He has a lovely rythymic trot and canter with smooth changes already that should be so easy to ride.  This colt is also absolutely dead quiet and already handled by children!  He is correct with a gorgeous topline and striking good looks.  Inspected and branded Westfalen GRP, he is also eligible as Half-Welsh with the WP&CSA.   This is the first foal of the thoroughbred mare, Kalamity Jane, who is also Westfalen/Rpsi approved Main Mare Book.   If you want a striking "get noticed" incredible type with the quietest mind and baby blue eyes…this is your guy.  Patronus is expected to finish at 13.2hands.  Inspection video
---
Bravo!   2016 Gold Premium Edenhof colt out of  Replikah by the deceased, Grand Prix dressage stallion, Boleem (Team Poulin!) see more about Boleem here…  This gelding is powerful, correct, and very intelligent.  He has superb breeding for both FEI  goals!  Brains, soundness, strength, versatility and agility are doubled up in this pedigree! He is sired by Boleem,  whose blood has produced top FEI contenders in both dressage and jumping disciplines and out of the super damline of his mother, Replikah HF( producer of 7 consecutive Gold Premium foals)!   Bravo 3 week old video
---
---
Already found their partners!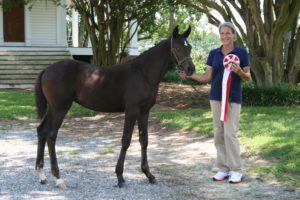 Edenhof's Diva Royale:  2018 filly (Dressage Royale x VPrSt Benetar/Black Tie)  Premium filly, Westfalen Site Keurig Champion.  USDF DSHB 2018 Filly Champion and 2018 Foal Championship at VA Summer Dressage, HITS, Commonwealth Park.  With scores over 80% she easily qualified for finals at Devon!  Now owned by Mrs. Lesha Williams she is destined for an FEI dressage career!
---
---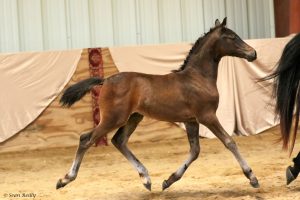 Phineas Bunce:  2017 Premium German Riding Pony colt by Evans Providence of the Night out of Verb.Pr.St. Dekadence.  Serious dressage pony prospect in dark bay/black coloring.  Phineas has impulsion to spare, with expression and elasticity shown over his 3 good gaits.  He scored solid 8's at his Westfalen inspection to earn  Premium foal rating. Will be a sensitive, forward ride, but is a very kind sweet soul with no misbehaviours.  Inspection Video
---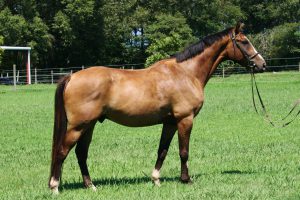 Deutschmark:  2011 Bay Edenhof gelding (Dream Along/ Goldstrum /American History xx) 16.2 h,  Hann/Old with full RPSI  passport.   Started under saddle, he is quietly walk, trot, cantering and is fully ready to begin a career.  Powerful, solid type with great gaits and always uphill with superb engagement.    Quiet, confident, and very intelligent, he represents the solid build and temperament that makes an ideal amateur dressage mount.  However, he also has the awesome shoulder and powerful hindquarter that will handle the "sitting" requirements of the upper levels. Hacks out alone or in company, works inside or out, a very solid citizen ready for for training.  If you like calm and thoughtful, this guy will be your rock solid partner. Just give him the miles.    https://www.youtube.com/watch?v=081hQ8TzegI
SOLD!   Now at North Atlanta Equestrian Center in GA with his owner/trainer Jemma Gray!  
---
---
Danke Schoen: 2013 Edenhof gelding by Dream Along out of Hanoverian mare Godiva by Goldstrum. 3 years old here and 16.2h. Super confident and easy going about everything.  Classic in style of movement and type. Video at 3 years→ https://www.youtube.com/watch?v=EMCgEcqoSNM
SOLD! Owned and in training with Jessica Idol, assistant trainer for Patrick Tigchelaar!
---
---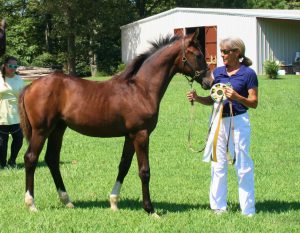 Fashionne:  2016 bay Edenhof filly out of Verb. Pr. St. Benetar by Furst Fohlenhof (Fidertanz v Mephistopheles).  Gold Premium and Site Champion at her Keurig with an incredible score of 9 for movement!  RPSI SSA Futurity Winner 2016, and Reserve Champion filly 2016 Overall!  This gal is big, sensible, and a WOW mover with an incredible dressage career in front of her!  World class prospect. Video→https://www.youtube.com/watch?v=2QoR7T7JvK8
SOLD!  Developing nicely in New York with Valerie Martin.Congratulations on winning NEDA's Rivendell Dressage June 25,26th MARE CHAMPIONSHIP with 80+%!!! as a yearling!
---
---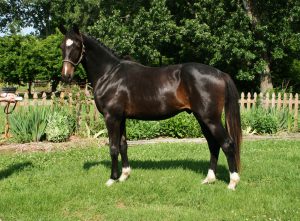 DaVinci:  2013 black bay Edenhof gelding by Dream Along out of Verb. Pr. St. Benetar (Black Tie x Davignon).  Phenomenal gaits and elasticity, scoring an 8.6 for movement at his keurig, earning Gold Premium, and tying for 5th overall for colts of 2013! First foal of Verb. Pr. St. Benetar sports the pedigree loaded with FEI dressage stars on both sides that produced his conformation and movement.  Born to be a world class competitor!  Video→https://www.youtube.com/watch?v=C9dRte07hfw
SOLD!  Anonymously owned? and now in professional training with FEI rider/trainer, Andrea Taylor, Canadian Para Olympic Coach for  2009-current.  Sooo,  go Team Canada!
---
---
---
---
Deacon's Quarter:  2011 Edenhof gelding, 15.3h., Dream Along/Boleem/Grandos.  FEI quality, charisma, and talent, in an appropriately sized package!This guy shows both a superb and unique pedigree, textbook conformation, excellent movement, and has a super work ethic!  Fun and enthusiastic outlook on everything.  Exceptional prospect for serious rider… Video→ https://www.youtube.com/watch?v=EvH6P5wIlhc
SOLD!  Owned by Susan Ashbrook, ridden by Heather McCarthy, and  in training with FEI  trainer and "S" judge, Sandi Chohany!
2017 update:  Congratulations on High Point and scores from 72-77% at his first show in Chicago!…and ranking 11th for HOY Awards at Training Level with only 2 shows!  No#1 Training Level horse of Illinois 2017 as well!
---
---
Blues Man:  2009 GOV Gold Premium gelding, 16.1h, sired by Black Tie (Hanoverian carrying the Bolero lines) out of the fully approved GOV Thoroughbred mare, Imperial Hope. Good movement and conformation making him suitable for both the dressage or jumping disciplines. An extremely level headed athlete with a fun personality!  Video→https://www.youtube.com/watch?v=xuc77z1QptU
SOLD!  Now enjoying First Level with his Adult Amateur owner in Virginia, and continues training with Gold Medalist, Chris Montgomery!
---
---
El Capitan: 2008, 17.1 h black/brown Hanoverian gelding by Espino/Escudo I out of Glamour/Gaylord.  Excellent bone and good gaits suitable for either dressage or  the most elite hunter ring.  Additionally he demonstrates excellent jumping talent, which comes as no surprise when one reviews his pedigree which includes Escudo I-2009 Hanoverian Horse of the Year! Graf Grannus- 2004 Hanoverian Stallion of the Year! Espri-1995 Hanoverian Stallion of the Year! Somewhat sensitive for such a big fellow, he needs a relationship with a confident, yet kind rider to bring out his best.
SOLD! Owned by trainer,  Veronica Walsh,  of VHart Equestrian!  …also of note**His good looks and athleticism also got him featured in the August 2015 edition of the Equine Journal as a model for an article about working caveletti with Ingrid Klimke.
---
---