We are very proud of the quality of our foals
2018- Edenhof's Diva Royale was Premium and Westfalen Foal Site Champion!
2017- Edenhof's Premiere was the Westfalen Inspection Site Champion,  and Premium    German Riding Pony foal!   and No#1 Westfalen German Riding Pony filly of 2017! 
2017- Phineas Bunce was Premium foal and No#3 German Riding Pony colt     of Westfalen Inspection Tour! 
2016- Fashionne was the 2016 SSA Futurity Winner!Site Champion, Gold Premium foal, and the No#2 Foal for the  RPSI Inspection Tour!  In 2017 she won the USDf AllBreed Award for RPSI Yearling Filly and BITUSA Prize for the 2017 USDF/Breeding Championships at NEDA Fall Festival!
AND  in 2016  both Boleem foals, Brocade and Bravo! , scored Gold Premium as well!
2015- Silke of Edenhof was the 2015 SSA Futurity Winner! No#1 Foal Overall for RPSI Inspection Tour, NO#1 German Riding Pony foal, and Site Champion!  in 2018 Silke earned Premium mare and was Site Champion GRP and No#1 scored Westfalen GRP mare of 2018!!!
---
---
"Inquiries are welcome, so if you fall in love, feel free to call for a chat!  "
  Pony foals for 2019:
        Edenhofs Pina Colada:  April 2, 2019 palomino filly-Deutsches Reitpony   (Evans Providence of the Night x VPrSt Golden Charme/Cocktailzauber)
        Edenhofs Phrophecy: April 30, 2019 chestnut colt- Deutsches Reitpony (Evans Providence of the Night x VPrSt Feriada/ Feriado)
       Edenhofs Parfait: April 24, 2019 palomino filly- Welsh B  (Evans Providence of the Night x Posh Lottie Da/Gayfields Call the Cops)
Warmblood foal for 2019:
          Edenhofs Wenceslas: HUGE Bay colt- Westfalen (Werbellin x Druscilla/Dream Along.)
---
---
Foal of 2018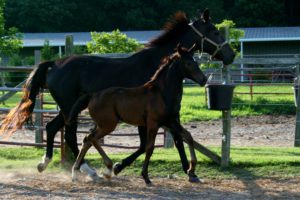 Edenhofs Diva Royale– 2018 Westfalen Premium Filly and Site Champion foal!
USDF/BC qualified for finals!  Champion filly, Champion foal, Champion Westfalen IBC at Virginia Summer Dressage/Hits Commonwealth Park June 16/17th 2018!
---
---
Foals of 2017

Edenhofs Premiere
 (Evans Providence of the Night out of V.Pr.St. Benetar)
---
---
Prince Rohan  ( Evans Providence of the Night out of Replikah HF)
---
---
Phineas Bunce
( Evans Providence of the Night out of V.Pr. St. Dekadence)
---
---
Patronus ( Evans Providence of the Night out of Kalamity Jane xx)
---
---
Foals of 2016
Fashionne  (Furst Fohlenhof/Fidertanz x VPrSt Benetar/Black Tie)
SITE CHAMPION! scoring incredible 9 on gaits!
No# 2 foal overall RPSI 2016 Keurig tour!
  RPSI SSA Futurity Winner!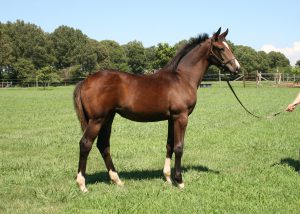 2016 filly out of Verb. Pr. St. Benetar by the  2013 Bundeschampionat , 2014 Vice Bundeschampionat stallion, Furst Fohlenhof!  Ultra modern, large filly whose flashy looks are perfectly matched by her flashy gaits!  She represents a veritable cocktail of the best in FEI dressage pedigrees.  The dam's side combines the reknown dressage lines  Donnerhall, Bergamon, and Gribaldi; whilst the young stallion, Furst Fohlenhof, provides the illustrious dressage genius of his sire, Fidertanz and damsire, Mephistopheles!  She goes as if she has springs under all four hooves!  Movement, movement, elastic, cadenced, movement!  and an incredible quiet demeanor to go along with those breathtaking gaits.  Videos to watch!  https://www.youtube.com/watch?v=IWdQG1XGCCUor  https://www.youtube.com/watch?v=TEoIE_rlYeg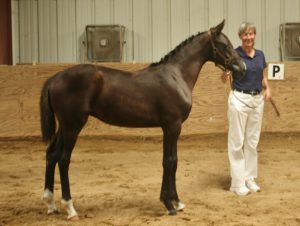 BROCADE:  2016 Black first filly out of the Dream Along mare, Verb. Pr. St. Dekadence by Boleem, the powerful FEI dressage stallion who  combines the genetics of the Naturel by the legendary Lucky Boy XX , LadykillerXX, and of course, Duruto.  Dekadence herself contributes Donnerhall 2x, as well as Corleone, and her damsire, the super powerful Holsteiner stallion, Regulus!   This filly already shows that great power behind, incredible strength through her topline, super balance,  and the lift up front!  Looks like she was born for the "big ring" in dressage!  Gold Premium super filly who will be retained for our breeding program
BRAVO!   2016 colt  – the 6th straight Gold Premium foal produced by our fabulous mare Replikah!  This colt is by the FEI stallion, Boleem, and shows exceptional promise.  He combines two virtually extinct superior genetic lineages!  That of the Hosteiner stallion, Regulus and of course, those of Boleem who provides The Natural, Ladykiller, and Duruto close up. This very substantial sized, solid boned, and powerful son also sports the quietest, most observant and confident presence.  Muscular with a particularly strong topline and canter, he should excel in the dressage arena though he already shows extreme talent for jumping! He scored solid 8's at his Inspection and was awarded Gold Premium status though only 11 weeks old at the time.   This is a very solid riding horse type with no limits!                               Inquiries welcome!
---
---
---
FOALS OF 2015
Silke of Edenhof – (Smoke Tree Snapdragon x Replikah HF)
No#1 Foal of 2015 RPSI Overall 8.8 scoring 9 on gaits!
No#1 German Riding Pony Foal 2015!
2015 SSA Futurity Winner!
Site Champion  and Gold Premium!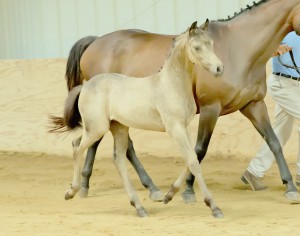 Silke of Edenhof is out of our fabulous mare  Replikah HF by the RPSI German Riding Pony stallion Smoketree Snapdragon (please see their pages for their specific breeding information and pictures!) . She exhibits the phenomenal movement and type we are striving for in our GRP breeding program scoring a 9 on all gaits already at her foal inspection! She is absolutely correct in her conformation which supports her powerful lift, rythym, elasticity and great freedom in both front and hind limbs with good articulation of every joint! On top of that she already demonstrates great presence, and commands "oohs" and "aahs" wherever she goes. Quiet, personable, and studious in demeanor- she then blows you away when she struts her stuff! Will be retained for our breeding program.   Silke's video from 2015RPSI Inspections→https://www.youtube.com/watch?v=huEbgKAowxU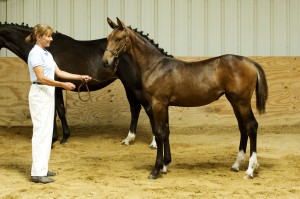 Druscilla:   is out of the amazing Verb. Pr. St. Benetar (Hanoverian) by the renown super moving stallion Dream Along(Oldenburg). (Please see their pages for complete pedigrees and photos!)  She is a classic, and we are so fortunate that we finally got a filly from this Bolero/Donnerhall and Dream of Love/Corleone combination.  She is super quiet and demonstrates  superior gaits, boasting both unbelievable suspension and cadence.  She has lovely conformation and is already a very large girl, yet demonstrates the elegance and breathtaking gaits of the ultra- modern dressage type when she moves.  She is very, very special genetic combination and has the easiest of temperaments, lovely suspension, and large expressive gaits!