Sire of 2017 Foals:    
Evans Providence of the Night
please visit his page in the main menu for more more information and photos, etc…
---
---
Sires of 2016 Foals
Fürst Fohlenhof 
sire of Fashionne:  2016 filly out of Verb. Pr St. Benetar, Gold Premium and Site Champion Foal! RPSI Reserve Champion Top Filly 2016 AND RPSI SSA Futurity Winner!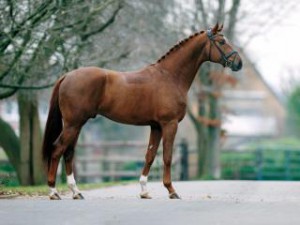 2010 Rheinland stallion bred by Johannes Baumeister, standing at Klosterhof Medinger, liver chestnut, 16.3h.  Fürst Fohlenhof was approved as Premium stallion in 2012.  As a 3 year old, he bested 15  young stallions and 24 mares and geldings to become the Bundeschampionat of 2013!  As the Federal Champion in Germany, he went on to the 30 day stallion test in Newstat/Dosse where he won the dressage index of 8.8 and the rideability index with a perfect 10.   He finished as the Reserve Champion of the 2013 30-day Stallion Test with the highest dressage breeding index of 149.  In 2014, he again qualified for Germany's National Championships and was crowned Vice-Bundeschampionat of 2014 in Warendorf.  Fürst Fohlenhof excels especially with his movement which was noted by the judges as" being highly elastic and swinging through his entire body, particularly at trot as well as presenting  serenity and elegance.  This is what our modern dressage horse should be."     https://www.youtube.com/watch?v=Rw-PKpU4dJw
Sired by Fidertanz who is considered pure Royalty in dressage breeding, Fürst Fohlenhof is one of 50 licensed sons.  Fidertanz has also produced multiple Bundeschampionats as well as top earning offspring at the foal auctions in Germany.  This family is known for their great character, extraordinary movement, and superior rideability.    Fürst Fohlenhof's mother, Medusa,  was sired by the rare Mephistopholes who provides him with connection to one of the best Trakhener dressage families as well!  Medusa is most famous as a dam for her production of the Warendorf State Stallion, Furst Piccolo  by Fidermark, who is a one of the most proven sires in North-Rhein-Westphalia breeding. He was a premium stallion at the main NRW licensing in 1999 and won his stallion performance test in Warendorf in 2000.
---
---
Boleem 
sire of Brocade: 2016 filly out of Verb. Pr. St. Dekadence, Gold Premium foal!
sire of Bravo!:  2016 colt out of Replikah HF, Gold Premium foal!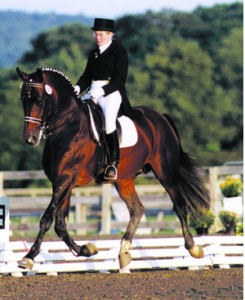 1983-2009.  Boleem was a world-class FEI Grand Prix dressage stallion,  deep mahogany bay, standing 16.2h.  Trained by Olympian Michael Poulin and competed through Grand Prix by his wife Sharon Poulin,  Boleem was an extremely successful athlete, among the best Grand Prix horses in the country in his time.    Highlights of his career include twice placing  at the Olympic Festival of Champions,  Selection to the USET Olympic Dressage Training List, 1st North American Freestyle Championships at I-1, 3rd Dutch USDF Awards at Prix St. Georges, 1st Dutch USDF Awards at I-1, 6th at I-1 USDF "Horse
of the Year" Awards, and 5th at Grand Prix in the USDF All Breed Awards.  Purchased by Susan Donor from the Poulin's, Boleem became the flagship stallion of Little Bull Run Farm in Catharpin, Virginia.  There he was fully approved by the German Oldenburg Verband  the Rheinland Pfalz Saar Int'l (RPSI).  When one realizes he was 18 years old when earning that Approval from the RPSI, who with a focus on approving only the more "modern" type stallions in recent years,  one must honor and give credit to Boleem's type as "classic and timeless"   He was also Registered and verified with the KWPN, and the Performance Horse Registry.
Boleem is known for reproducing his strong topline, straight legs. and very uphill conformation in his foals.  He himself was very "forward-thinking", showing tremendous power and engagement from behind.  These qualities, as well as his notorious gentle, people pleasing personality and work ethic are also cherished in his foals.  With limited breeding he produced many Premium offspring and winners of in-hand and performance classes.  Known for his production of upper level dressage horses, it must also be noted that he has produced some very talented and successful jumpers as well.     .https://www.youtube.com/watch?v=polBe52hc1w
Boleem's sire, Naturel, is highly regarded worldwide as one of the top producers of FEI horses in all disciplines.  Naturel also sired Commanche, the Dutch gelding who placed 6thh on the USET short llist for the 1996 Olympics under rider Michael Barisone.  Naturel is by the legendary Lucky Boy XX, grandson of Nearco, who was a prferent foundation sire of the Dutch Warmblood breed.  Four Lucky Boy sons competed in the 1984 Olympics!  He also produced the International jumpers like Calypso, The Freak, and Medrano.
Boleem's damsline carries elite dressage and jumper blood as well.  On the top, we find the immortal Ladykiller XX.  Only two stallion lines, Ladykiller XX and Cor de la Breyere have dominated Holsteiner breeding over the years!  Thus, from Ladykiller XX, who also sired Landgraf, we find why Boleem did so well in the jumping evaluation at his stallion testing as a youngster.  On the bottom side, we see Doruto, who sired Boleem's  grand dam Rinske.  Doruto is still acknowledged as the most influential producers of international dressage horses world wide.  Thus we find that Boleem offers some of the strongest, highly sought-after dressage and jumper bloodlines.  When reviewing the pedigree, one is struck by the fact that all of his relatives have been awarded Keur, Ster, Sport, and /or Ster preferent awards and  he is still ranked among the top competition stallions in the World Breeding Federation for Sport Horses International Breeding Guide.
---
---
---
Sires of 2015 Foals:
Smoke Tree Snapdragon
sire of Silke of Edenhof: 2015 filly out of Replikah HF, Gold Premium and Site Champion foal!
                                RPSI SSA Futurity Winner!
                             RPSI Highest scoring German Riding Pony Foal of 2015!
                          RPSI Highest scoring foal of 2015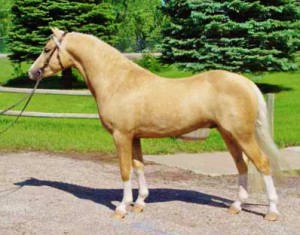 2006 -Smoke Tree Snapdragon is a Welsh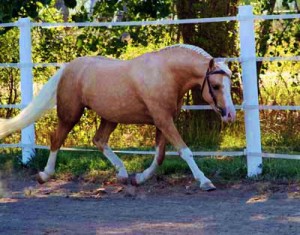 Section B pony stallion standing at Solomon Farm in South Dakota, USA.  He is from a classic Welsh pedigree of Bunburry Jamboree out of Smoke Tree Molly Magee.  Since 2009, one finds his foals consistently filling placements (14) to date) within the top 5 category of the RPSI Inspection results for German Riding Pony offspring. In 2011, he sired the No#1 GRP colt; in 2013, the No#1 GRP colt; and in 2015, the No#1 GRP filly (Silke of Edenhof) and the No#2 GRP filly (SF Hot to Trot).  He has also already produced 2 licensed sons, SF Spirit and SF Solaris by small sport mares.  Standing at 12.3, and a lovely palomino, he  provides lovely movement to his foals as well as his classic good looks and conformation.
---
---
Dream Along
V.Pr.St. Benetar : produced 2015 filly Druscilla, and 2013 colt, DaVinci.
Broadway:  produced 2013 colt Deeds, and Deacon's Quarter, Oct. 2011 colt.
Godiva: produced 2013 colt Danke Schoen, and Deutschmark, Oct 2011 colt.
Replikah HF: produced V.Pr.St. Dekadence  Oct. 2011-Gold Premium Mare.
Dream Along is the 2001 Oldenburg/Rpsi Stallion imported from Germany by Margret Gafford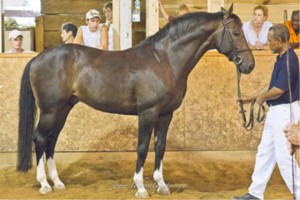 of Sankt Georg Farm Int'l, Petersburg, Virginia, USA.  He is a 16.2h dark bay, by Dream of Love(Westf) out of Mornels(KWPN), a daughter of the world reknown, Corleone(Holst) of Cor de la Bryere lines.  Dream Along is recognized for contributing his outstandingly soft disposition and amazing super-elastic movement to his offspring.  In 2006, he was shown twice , winning both Dressage at Lexington and Dressage at Devon Stallion Championships.  Thus, winning the USDF Breeder's Stallion Championship(East Coast) and Malachit Trophy.   Producing his first American foal in 2007, she was winner of the 2007 Dressage at Lexington Fillies.  Though privately owned and thus bred to a small number of mares, he has consistently produced gold premium foals and top performers both in hand, at inspections, and under saddle.https://www.youtube.com/watch?v=za2hdjQyThA
Reference Sire:  Bergamon, Donnerhall, Corleone, Dream of Love, Fidertanz, Mephistopheles, Black Tie, Regulus, Goldstrum